Shooting courses for everyone at Oxford Shooting Academy
Tactical

Close Protection

Actors

Competency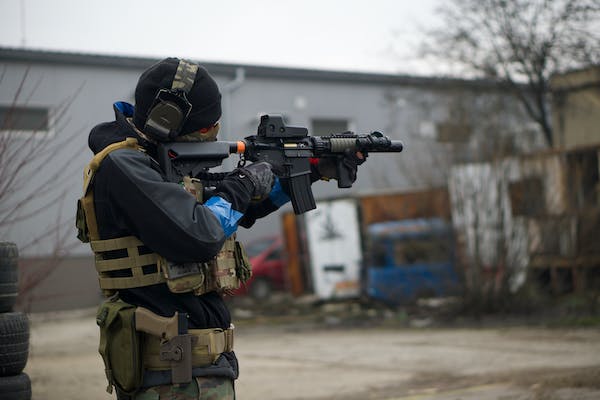 Tactical Firearms
One-to-one or group training?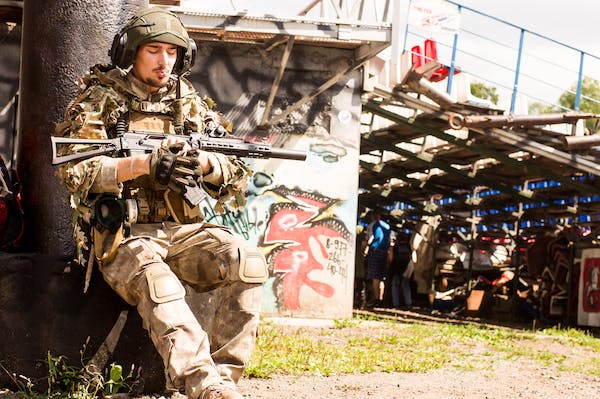 Tactical shooting is a shooting discipline that involves using firearms in a strategic and efficient manner to achieve specific objectives. It is commonly practiced by military personnel, law enforcement officers, and civilians engaged in self-defense training. The primary goal of tactical shooting is to develop skills that enhance accuracy, speed, and decision-making under realistic and dynamic scenarios.

This course will be a full day at an indoor range, you will get to shoot hundreds of rounds. We will provide a range of hot & cold drinks throughout the day with food at lunch time. For a group, there will be an allocated 1000 rounds to be used as the day goes on, for an individual on a one-to-one course this will be 500 rounds. We will ask you to help load the magazines, obviously this is part of the training rather than us being lazy!
If you don't have our Competency Certificate or our Safety Certificate the initial training will be with blank firing, air or BB guns. They look feel like the real thing & are a safe way of getting used to moving at speed with a loaded weapon. Safety is important, but once we are happy you are safe we will move on to live fireing guns.
If you have never shot before, the Stage 1 Training is essential and it is a requirement that you are signed off and certified at this stage before moving to Stage 2 Training. Stage 1 will be using non-lethal rifles which could be blank firing or air-powered.

Most people will be certified in about four hours, so the rest of the day will be Stage 2 Training.

Key aspects of tactical shooting include:

Firearm Handling: Participants learn safe and efficient methods of handling firearms, including loading, unloading, and clearing malfunctions.
Marksmanship: Tactical shooters focus on improving their accuracy and precision when shooting at various distances and from different shooting positions.
Movement: Shooters practice moving efficiently and safely while engaging targets. This includes techniques such as shooting on the move, taking cover, and using concealment effectively.
Communication: In team-based scenarios, tactical shooters learn to communicate effectively with their teammates to coordinate movements and engagements.
Scenario-Based Training: Tactical shooting often involves scenario-based training, where participants face dynamic situations that require quick decision-making and adaptation to changing circumstances.
Stress Inoculation: Training may incorporate elements of stress to simulate real-life situations, helping shooters remain composed and make accurate decisions under pressure.
Use of Cover and Concealment: Shooters learn how to utilize available cover and concealment to protect themselves from incoming fire while still maintaining the ability to engage threats.
Weapon Transitions: In some cases, participants practice transitioning between different firearms, such as moving from a handgun to a rifle.
Tactical Reloads: Shooters learn to reload their firearms quickly and efficiently, even in the midst of a firefight.
Team Tactics: For those involved in team-based scenarios, shooters practice coordinated movements and team tactics to achieve their objectives effectively.

It is essential to note that tactical shooting is inherently dangerous, and proper safety precautions and professional training are critical. Individuals interested in pursuing tactical shooting should seek qualified instructors and follow all local laws and regulations regarding firearms use and training. Safety should always be the top priority during any shooting-related activities.
Close Protection

There is a growing call for Close Protection Tactical Firearms training in a forever changing world. It is very difficult to train with firearms in the UK many people are going to Europe for it. Not even we can get large calibre weapons to train with, but we do have a range of small bore rifles which are as identical to the full bore version as is necessary to "pick it up & go".
Close Protection (also known as Bodyguard) is where weapons are carried to ensure the safety and security of their clients.

Close protection is a specialised field of security focused on providing personal protection to individuals, including high-profile personalities, government officials, celebrities, or anyone facing potential threats to their safety.

If you are in a situation where you come under gun fire, you most likely won't have a gun to shoot back. However, if you obtain one, how do you use it? How do you quickly deal with a jam, mag change? Where is the safety? In this situation, speed saves lives, you need to know the weapon you just picked up. You need to know how to drop the mag & quickly insert another, you need to know how to cock the rifle. It all looks so easy in the films, but I can assure you that under stress it becomes more difficult.

Spend a day training with us, we will take you from beginner to running a practical course with different rifles (SIG, AR15, MP5, AK47, UZI). We will go over & over the mag change (sounds boring, but getting it done quickly or in the dark could be a game changer). We will teach you how to move quickly with a loaded rifle, how to drop the magazine & load a new one, how to hit the target from multiple positions.

Being able to shoot is one thing, but shooting the right target is essential. We have a bank of turning targets, they will turn & you have the split second decision – shot or not to shoot. We will also load two targets, a goodie & a baddie, when the target turns you need to hit the right one.

We will also train with blank firing, air or BB pistols. We can't make the real thing available to you, but blanks give the same impression. Quick draw, insert mag, cock. It's not difficult, but you might not have time to examine the pistol you just picked up, you need it ready to shoot straight away.

We will get you up to speed.

If you have never shot before, the Stage 1 Training is essential and it is a requirement that you are signed off and certified at this stage before moving to Stage 2 Training.  Stage 1 will be using non-lethal rifles which could be blank firing or air-powered. 
Most people will be certified in about four hours, so the rest of the day will be Stage 2 Training.
The primary purpose of close protection firearms is to act as a last resort for the protection of the client and the close protection team. The use of firearms is typically governed by strict rules of engagement and is only employed when all other means of de-escalation and protection have failed or when there is an imminent threat of deadly force against the client.
Here are some key aspects of close protection firearms:

Firearm Selection: Close protection officers usually carry concealed handguns due to their ease of concealment and quick access. Common firearms used include compact semi-automatic pistols chambered in calibers like 9mm or .40 S&W.
Firearm Training: CPOs undergo rigorous training in firearms handling, marksmanship, tactical shooting, and decision-making under pressure. They must maintain proficiency through regular practice and qualification.
Holsters and Concealment: Close protection officers use specially designed holsters and carry methods that allow quick access to their firearms while maintaining a low profile to avoid drawing unnecessary attention.
Rules of Engagement: CPOs operate under strict rules of engagement, which dictate when and how the firearm may be employed. The use of deadly force is always a last resort and must be justified under the law.
Situational Awareness: Close protection officers are trained to maintain constant situational awareness to identify potential threats and assess whether the use of firearms is necessary in a given situation.
Team Coordination: In some cases, close protection is provided by a team of officers. Communication and coordination between team members are essential to ensure the safety of the client.
Legal Considerations: CPOs must be well-versed in the laws and regulations governing the use of firearms in the jurisdiction they operate. Understanding the legal implications of using deadly force is crucial to avoiding legal issues.
Discretion and Professionalism: Close protection officers must maintain a professional demeanor and avoid unnecessary displays of their firearms to prevent escalation or panic.
De-escalation Techniques: While close protection officers are trained to use firearms, they also learn various de-escalation and conflict resolution techniques to defuse potentially dangerous situations without resorting to violence.
Firearm Maintenance and Safety: Regular maintenance and safety checks are essential to ensure the firearms function reliably when needed.
Close protection firearms are tools of last resort and are used to protect lives when all other options have been exhausted. Close protection officers play a critical role in providing a safe environment for their clients by deterring potential threats and responding effectively to dangerous situations.
Shooting for Actors
Are you about to take on a part where you have to hle firearms but don't know how? Come find out!
You have to look good. Not just to the average TV viewer, but to the professionals as well. You don't just hold a gun, you HOLD a gun! You have to hold it right. When moving with firearms you have to be safe. OK, we aren't in America, you won't have live rounds you certainly won't shoot a fellow actor, but if you don't look cool, you won't be playing a similar part in the future.
Do you know how to hold a rifle? Do you know the parts of a rifle? How about pistols? They all look similar from a distance but are quite different up close.
When ever I see an actor pointing a pistol at someone with an uncocked hammer on a single action pistol it makes me cringe. It makes the actor and the whole production team look stupid. Don't understand what I just said? Come and learn.
Cocking/charging are essential to any loading process, often missed out on the screen though. It doesn't look good when an essential part is missed.
Remember, YOU have to look cool. If you look like a snowflake, it's not the part for you.
Come and train at Oxford Shooting Academy. We will present a range of guns and will train you on rapid use of firearms, including moving then firing from different positions. We will have you shooting real firearms by the end of the day.
---
Keanu Reeves is actor who knows how to shoot. He doesn't just act, he actually does real training. We don't expect to get you up to his speed or stard in one session, but we do intend to give you an idea of what shooting really is do do so safely.
Keanu enjoys shooting, he took it up after wanting to look good. It is a global sport with local, national international competitions. Althjough it is called "Tactical Shooting" in the USA it is often called "Practical Shooting" in other parts of the world. It's the same thing, but wrapped up in a bit of cotton wool to make it sound less agressive.

Spend a day with us
Come spend a day with us at Oxford Shooting Academy, learn how firearms work & do some live shooting. We will train yopu to use firearms in a tactical manor, how to move with a loaded weapon. Once signed off as safe you will get to do it all with a live gun.
Magazines
How to insert a magazine charge (cock) the firearm. Also, not quite as simple, how to remove a magazine.
How to hold
It isn't as simple as it sounds. If you want to look like you know what you are doing you need to hold it the right way. If you want to look professional, you have to get it right.
How to shoot
Different firearms shoot in different ways. Do some real shooting so you know what to expect.
How to aim, how to fire. How to quickly change a magazine. How to move with a loaded firearm.
If you have never shot before, the Stage 1 Training is essential and it is a requirement that you are signed off and certified at this stage before moving to Stage 2 Training. Stage 1 will be using non-lethal rifles which could be blank firing or air-powered.
Most people will be certified in about four hours, so the rest of the day will be Stage 2 Training.
Firearms training for actors is a specialized form of training that focuses on teaching actors how to handle firearms safely and convincingly portray firearm use in films, TV shows, or theater productions. The goal is to ensure that actors can perform their roles realistically while adhering to strict safety protocols to prevent accidents on set. Proper firearms training for actors involves several key components:
Firearms Safety: Safety is the most critical aspect of firearms training for actors. Actors must learn the fundamental rules of firearm safety, including always treating a firearm as if it's loaded, keeping their finger off the trigger until ready to shoot, and never pointing the firearm at anything they don't intend to shoot.
Basic Handling Skills: Actors learn the basics of handling firearms, including how to hold, carry, and manipulate the weapon safely. This training helps them appear confident and natural when handling firearms during scenes.
Familiarization with Different Types of Firearms: Actors may be required to use various types of firearms in their roles. Training should familiarize them with different models, sizes, and action types to ensure they can handle each one realistically.
Firearm Operation: Actors learn how to operate firearms realistically, including loading, unloading, and performing basic firearm manipulations like racking the slide or working the action.
Shooting Techniques: While actors do not need to be marksmen, they should be taught basic shooting techniques to portray shooting scenes convincingly. This includes understanding sight alignment, sight picture, and trigger control.
Recoil Management: Actors should learn how to manage recoil, especially if they are using blank ammunition on set. Proper technique prevents injuries and allows for consistent performances.
Muzzle Awareness: Actors learn the importance of keeping the firearm's muzzle in a safe direction during scenes to prevent accidental injuries to themselves or others on set.
Communication with Stunt Coordinators: Firearms training for actors should involve clear communication with the production's stunt coordinators and firearms experts to ensure that all scenes are well-choreographed and safely executed.
Understanding Scene Context: Actors should understand the context of firearm use in the script, including the character's mindset, emotions, and the overall narrative, to deliver authentic performances.
Psychological Preparation: Using firearms in scenes can be emotionally and mentally demanding for actors. Training may include guidance on psychological preparation to handle the stress and intensity of shooting scenes.
Continued Practice: Like any skill, firearms proficiency requires practice. Actors may be encouraged to practice their firearm handling skills regularly to maintain proficiency.
It's important to note that while actors receive firearms training for their roles, they are not trained as law enforcement officers or military personnel. The training is specifically tailored to the requirements of the role and the context of the production. Additionally, strict safety measures are always in place on set to protect the well-being of everyone involved. Firearms experts and safety officers are present during filming to ensure proper handling and adherence to safety protocols.
Competency with Rifles for Self Defence
Rifle training is an essential skill for those embarking on expeditions into the wilderness, particularly in regions where animals pose a significant threat to human life, such as the jungles, arctic, and barren lands. In these challenging environments, possessing the knowledge and expertise to handle a rifle effectively is vital for personal safety and the preservation of the natural ecosystem.
Jungle environments, with their dense vegetation and elusive wildlife, demand precision and skill. Rifle training ensures that individuals can protect themselves while minimizing harm to the delicate ecosystems. In the Arctic, where polar bears and other formidable predators roam, rifle training is paramount. A well-trained marksman can deter or neutralize threats without causing unnecessary harm.
The barren lands, where isolation and extreme conditions prevail, also require rifle competence. One's ability to hunt for sustenance or defend against aggressive wildlife hinges on this training.
In these varied wilderness settings, rifle training upholds the principles of responsible exploration, fostering a profound respect for nature and its inhabitants. It equips individuals with the means to safeguard themselves and the delicate balance of these ecosystems, promoting safety and harmony within the wild British landscape.
Most people will be certified in about four hours, so we recommend a half day training session to start.
Safety: Prioritising safety in rifle handling is paramount, from proper storage to trigger discipline, ensuring responsible and secure firearm management.
How a Round Works: Understanding the parts of a bullet, its trajectory, and terminal ballistics is fundamental for effective shooting and target placement.
Sights and Optics: Utilising sights and optics aids accuracy in target acquisition, particularly over longer distances, enhancing your shooting experience in the wild outdoors.
Bolt Action: The bolt-action rifle demands precision, ideal for marksmanship and hunting, with its reliability and versatility making it a classic choice for wilderness firearm enthusiasts.
Under-Lever: This timeless design marries tradition with functionality, offering a smooth cycling motion and excellent accuracy, a favourite for self defence.
Semi-auto rifle: Using a semi-auto rifle offers rapid self-defense with quick follow-up shots, enhancing safety against potential threats in the wild lands.
Pump Action: Renowned for its speed and reliability, the pump-action rifle is a versatile choice, suitable for various shooting scenarios where sekf defence is critical.
Test: Evaluating your proficiency, ensuring you are a responsible and capable shooter. To assess the knowledge gained, a short written test will be conducted at the end which will be 50% of your overall marks. Continued assessment during the practical parts of the course will form the other 50%. 70% will be a pass.